((Originally published in December of 2011))
Another holiday season, which means Dickens Fair!
For those who are not yet aware, "The Great Dickens Christmas Fair" is essentially a reenactment of mid-century Victorian London at Christmastime, and filled with the characters from Dickens' novels, as well as other historical figures. There are a myriad of shops, food stalls, stage shows, and games. There are numerous sets made to look like the interiors of Victorian houses and parlors. Everything is made to be as authentic and period as possible (this is not a Renaissance faire...), and all the actors and vendors go through an extensive workshop process to act, think, and speak like people of the era. It's an amazing production.
I spent four lovely days at the fair this year!
The 10th of December was Le Legion Fantastique's annual "Steam Explorers Consortium" and contest, which I had the pleasure of competing in and winning last year. It is the only day in which I will wear steampunk to the fair. My character is an adventurer and collector of specimens for the Royal British Museum.
I added a faux-leather vest bodice that my beau gave to me as a gift. It looks better in person than it does in the photos!
Taken inside the parlor of Le Legion Fantastque, here's a shot of myself and my beloved beau, Duke. He actually works the fair portraying the adult David Copperfield. The waistcoat he's sporting is from 1841!
We also met up with Duke's very good friend, Mr. T. This was T's very first Dickens Fair, and he did quite well in putting together an outfit for himself. He portrayed a scientist studying the possibilities of electricity.
On the 11th (my birthday!) I wore my La Sylphide costume. The ballet was created in 1832 or so, so it's very much in period! I wore my dead Russian Pointes and had a wonderful time silently flitting about and being a total ballerina. LOVE! Sadly, no pictures.
Next weekend I wore my pink gown, but the top had been completely redone as an evening bodice. I had originally bought this gown off The Bay of E, but it came with a rather hot and stuffy jacket. My mother was able to take it apart and create a sort of bodice to make it look a little more period and more comfortable for balls and dancing. It's not perfect, and at the time of these photos it was not entirely finished. Mum still plans to embellish the neckline and add a ribbon inside the sleeves to hold them up a bit more. I slept over at a friends, so I did not have the supplies (or the time!) to do my hair as nicely as I would have wanted.
With my friend, James...
Notice the cute purse that I just happened to find at TJ Maxx - it matches perfectly!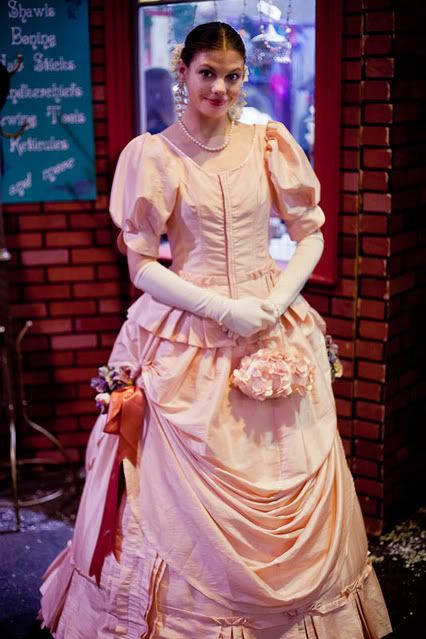 That Saturday we from Dickens in the day to The Gaskell Ball in the evening, which is like Fezziwig's warehouse on steroids. Held in the gorgeous Scottish Rite Temple in Oakland, a live band plays waltzes, polkas, mazurkas, scottisches, galops, and set dances. Most people come in historical attire.